We're All Futures Designers
We're All Futures Designers
In ways big and small, across our lives, we all lead change. Here's how.
Consider the night sky (or if possible, look at it now). Each star is a distinct individual. Yet, together they form complex, breathtaking patterns. Over 20 years ago, businesses were usually seen as individual stars, each going through their lifecycle. In 1994 Rafael Ramirez and Richard Normann introduced the concept of a Value Constellation. Rather than a linear chain, businesses were enmeshed in a multi-point, symbiotic, and interactive web. Each participant creating, exchanging, and consuming various forms of value, including money, data, and offerings.
The world and our lives function the same way. We're each part of a complex, global ecosystem composed of institutions, individuals, forces, and objects. The product of these interactions is human society and there are a plurality of possible futures ahead that only become singular in the present. We're all creators and products of this future. We're all Futures Designers.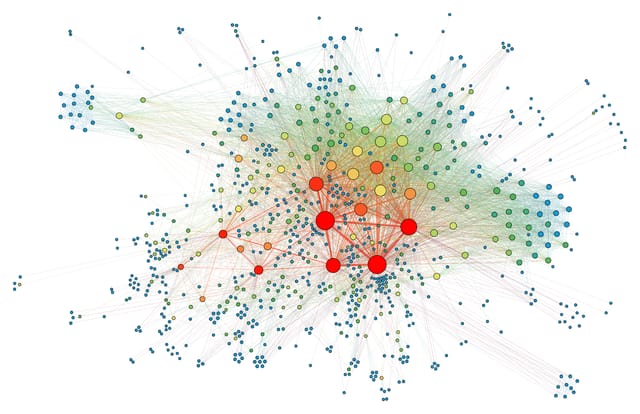 A force-directed social network diagram. From Martin Grandjean, Université de Lausanne.
Never doubt that a small group of thoughtful, committed citizens can change the world. —Margaret Mead
We're all immensely powerful, even when manifestations of this power are subtle. As Ben Parker says, "with great power comes great responsibility." There's a myriad of ways each of us can and do shape a better future. Imagine a coral reef. There are hundreds of species, each playing a vital role in maintaining the ecosystem's balance and prosperity. Flora and bacteria produce energy, fauna, like clownfish, consume it, and fungi decompose matter to feed producers. Similarly in our global ecosystem, there are change archetypes that help us understand how we each design the future:
1. Researchers // Generate radically new ideas
Linus Torvald created one of the internet's greatest revolutions: in 1991, as a student at Finland's University of Helsinki, Linus inadvertently birthed the idea that would become Linux, an operating system 10M+ people use. Linus's motivation wasn't to get rich—but his love for computers. Even now, as a wealthy man, he primarily spends his time maintaining the Linux operating system he helped bring to the world.
Researchers are scholars or academics attempting to identify new knowledge. They are usually motivated by a love of discovery and learning. They often love teaching and sharing what they've discovered.
2. Inventors // Find how new ideas can create value
Ann Makosinski is a Forbes 30-Under-30 prize-winning inventor. She's a TEDx speaker and has developed a flashlight that draws power from the heat of your hand. By age 21, Ann had filed patents and founded a company Makotronics Enterprises. She believes, "The only way to find out is to build it."
Inventors are curious individuals out to solve problems. They strive to perfect new technologies or new ways of doing things. Creation and novelty are what motivate inventors to solve society's problems.
3. Activists // Push for the realization of new ideas
When Greta Thunberg was sixteen, she began demanding the Swedish (and world) government(s) adopt a radical response to climate change. In her words, "The politics that's needed to prevent the climate catastrophe—it doesn't exist today. We need to change the system, as if we were in crisis, as if there were a war going on." Greta has catalyzed the Fridays For Future movement to more than 100,000 schoolchildren and is one of TIME magazine's most influential teens.
Rather than pursuing knowledge creation or inventing new technologies—activists are deeply motivated by a desire to change the world (and often do so). The value of their work is usually non-commercial and shared widely by millions. Often activists' work activating new ideas will spark entrepreneurs to create a new business or service.
4. Entrepreneurs // Turn proven ideas into radical new value
Jack Ma was rejected from Harvard Business School ten times and from thirty different jobs. Jack has never written a line of code or directly made a sale—yet he controls the five hundred-billion-dollar multinational technology conglomerate Alibaba Group. Ma believes to succeed you must, "Forget about your competitors, just focus on your customers."
Entrepreneurs create new, often low-resource ways of addressing unmet market needs. Some entrepreneurs, like those behind 4Ocean, try to integrate positive social outcomes into their business models, like using ocean plastics to make popular accessories. Entrepreneurs are driven by taking new ideas and inventions and bringing them to as many people as possible.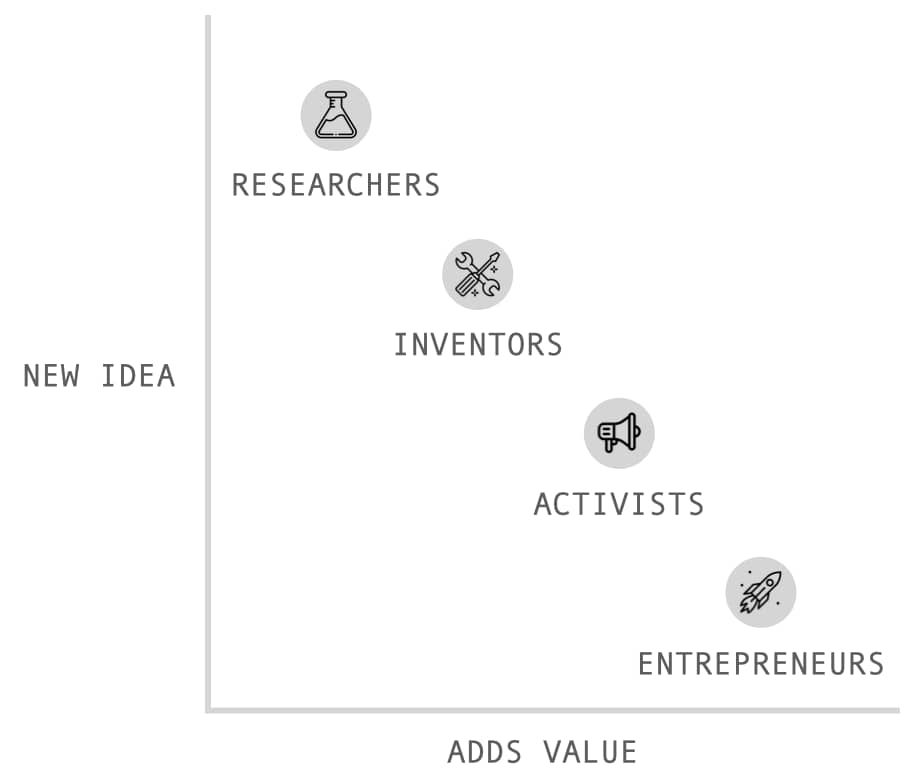 Like role-playing characters, we all carry seeds of each archetype within us and embody them at different times. We may find certain archetypes fit us better or that we're well balanced. Similar ideas exist, such as the Hacker, Hustler, Hipster framework or Lin Basadur's Innovation Profiles (Generator, Conceptualizer, Optimizer, Implementer). Whatever model you prefer, it's important to understand that these aren't binary classes but fluid personas we adopt in different contexts and circumstances.
The Futures Designer Skillset
Let's say one person seems like more of an entrepreneur than an inventor. They may not be creating new ideas, but once they see a valuable one, they'll make sure the world can access it. What skills is this person most applying (and not applying)? In fact, there are 12 core skills underlying futures design, which come from core human skills we all apply every day:
Researchers // Generate radically new ideas
Scanning: Identifying and articulating disparate quantitative and qualitative data.
Empathy: Understanding and articulating experiences, contexts, beliefs, and challenges.
Creativity: Thinking in novel, lateral ways about data, perspectives, and certainties.
Inventors // Find how new ideas can create value
Making: Modelling, prototyping, testing, and iterating on solutions to defined problems.
Scouting: Exploring and piloting solutions across various contexts and problems.
Foresight: Projecting today's realities into tomorrow's possibilities.
Activists // Push for the realization of new ideas
Strategy: Identifying critical issues, prioritizing, and making decisions.
Storytelling: Expressing clear and inspiring visual, written, and spoken content.
Facilitation: Navigating complex power dynamics to unify dispersed communities and institutions.
Entrepreneurs // Turn proven ideas into radical new value
Leadership: Leveraging trust, transparency, inclusivity, and respect to engage, mobilize, and coach.
Management: Overseeing people, resources and plans towards a set end.
Organization: Building processes, systems, and capabilities in social and technological environments.
We believe in people's capacity to lead change.
It's why the heart of the Boardroom Labs model is empowering individuals and institutions to lead a brighter collective future. Feel free to map your skill levels to this map and see where your futures design strengths and weaknesses might lie.
This is the second article in the Lead The Future series, which will continue exploring the design of products, companies, and movements that shape a better world. Check out the first article An Intro to Futures Design. Would you like to be notified when the next article's launched? Subscribe to the Boardroom Labs' newsletter in the sidebar.